Yay, You!: An Interview with Artist Joan LeMay
A weekly celebration of good people doing amazing things.
There are literally hundreds of things I would love to talk to painter and illustrator Joan LeMay about — favorite riot grrrl songs, best snack foods and unabashedly loving the things that make you happy are just a few subjects in which I consider her an expert — but her series of prescription medication portraits is my current obsession.
We're often taught to hide our medications — to keep them tucked away in our purses, drawers or cabinets. And that's especially true about those prescriptions used to treat mental illness. But last year Joan broke that rule and celebrated those meds with the same vivid colors and palpable enthusiasm as she does with any of her celebrity and pet portraits. (Speaking of her pet portraits, see that dog down there? With the goofy grin and a whole roasted turkey all to himself? That's my dog, Johnny Waffles, as painted by Joan, and it's perfect.)
Joan has been painting and illustrating for decades — you've likely seen her work in Lenny, Broadly, Paste Magazine, The Stranger and more — but in recent years her paintings have gotten louder, brighter and bolder, and as a long-time fan of her work, it has been energizing and inspiring to watch. Maybe it's cheesy, but it has reminded me to live boldly, too — to celebrate the pets, people, food, and yes, even the medications, that I love.
Read on to learn more about Joan's work and her process (and snag some great food, music and podcast tips, too).
Do you remember the first portrait you painted?
The first portrait I remember pouring myself into was a charcoal drawing — a big one — of Michael Stipe for high school art class in Katy, Texas. It was right when Monster came out, which I wasn't that into, but that album cycle had sent me deeper into an R.E.M. hole where I was listening to Green a ton, and his face is a really interesting one to draw and it was great to just immerse myself in the drawing of it.
I was in Art Club (I was also in the Thespian Society, but couldn't memorize lines for shit, so I was always put on paint crew which I was grumpy and sad about at the time but it makes sense now). ANYWAY, there was a glass display case in the school hallway outside the art classroom, and there was a portrait competition in Art Club, and if you got a ribboned prize, they put your piece up in the glass display case. My school's culture was pretty straight and conservative, and although R.E.M. was obviously a giant mainstream force in 1994, it still felt like a tiny subversive act to have done a portrait of Stipe that then hung in that glass display case. I still have the blue ribbon, but the portrait is gone, which is totally okay because I'm sure I'd cringe looking at it now.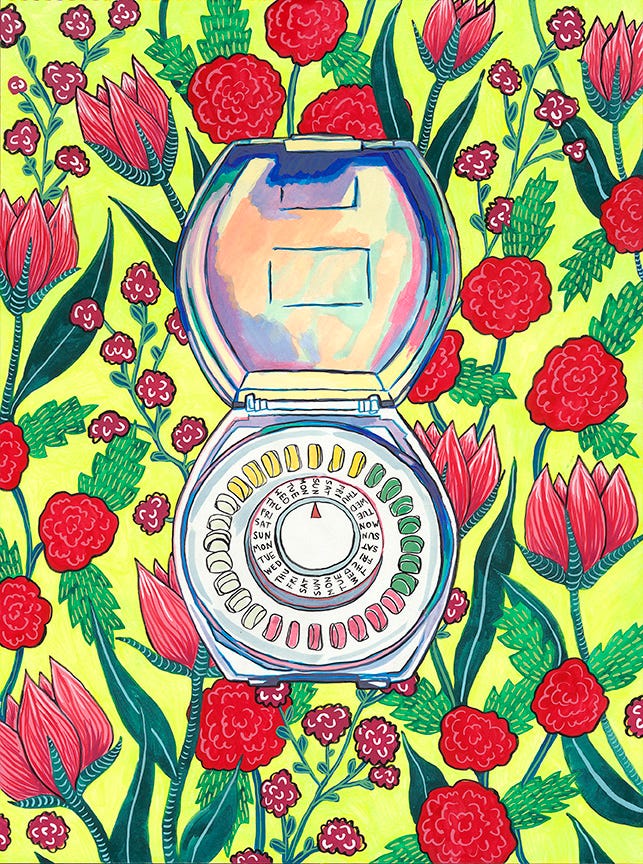 Tell me about the prescription series — you have painted portraits of bottles of Lexapro and Xanax, a container of birth control and a Ventolin inhaler like you would a beloved pet or family friend. I love these images because, like the pets or people or food in our lives, medication can be just as essential, yet it so often comes with a stigma. We're supposed to hide it — in purses, in medicine cabinets, in drawers. This does the opposite of that. How'd that project start?
The whole project started because I was feeling very thankful to have my inhaler one day. I don't remember if I'd misplaced it earlier in the day or was having a particularly asthmatic day or what, but I had also been thinking about wanting to mess around with still lifes while thinking about portraiture, and I was also-also thinking about how I've always tended to anthropomorphize objects, which is almost definitely a symptom of having been a sickly only child with an active imagination and escapist tendencies (I credit being attached to a nebulizer every day for a long-ass time to me drawing a lot as a kid — the asthma and art-making are, for me, actually related).
I painted my Ventolin like I would a person or a pet, and in the post on Instagram, I talked about how I always have my inhaler with me, and that if you have ever been around me, you have also been around my inhaler, so look, here it is. That led to thinking about what we keep hidden, and how meds and illnesses are stigmatized (inhalers really aren't, but others are), and how absolutely stupid that is, and how we should all be very thankful to whatever helps us live our most realized lives, meds included.
Some of the most stigmatized medications are those that treat mental health issues. In my life, I've been on Lexapro (which saved my bacon during a serious depression) and Wellbutrin, so I decided to paint those guys, too. I then started taking commissions to paint people's Prozac, people's MS medications, people's cancer medications, people's hormone meds, and the like. This year, I worked with the great folks at 20x200 to create a work and a limited edition fine art print of the classic birth control wheel for Women's History Month. I love that people want this work hanging in their homes. The paintings can serve as a celebration that you're taking care of yourself, or a celebration of the way your meds are working for you, or just a reminder to take them, or a conversation starter, or whatever you want.
Before painting full-time, you were also a music publicist. That's how I first got to interact with you! Music is a big part of your life. (You even celebrate women musicians in your series with artist Jenny Kroik, #joanennychallenge, which is so, so great.) Do you listen to music while you paint? And does what you're painting influence what kind of music you put on at the time or vice-versa?
I could talk about the relationship between simultaneous audio consumption and artistic output forever. The short answer of the second part of the question is that yes, for me, what I'm listening to completely impacts what I'm painting and how I'm painting it. I've often half-jokingly described my brain as a "one hamster, one wheel" situation — splitting attention, multitasking or re-orienting myself after being interrupted during any activity requiring attention and thought throws the proverbial imaginary hamster off the proverbial imaginary wheel. It takes him a minute to get back on there and get running again, and when he's running, he's running in a kind of automatic hamster blur.
Right now, when I'm painting a face or hands, I have a hard time listening to anything with words, anything I have a deep, emotional connection with or anything I'm deeply familiar with. It gets into my body, and the strokes get gestural in ways I can't technically control on a level that's satisfactory to me quite yet (I'll get there). When I used to paint bigger abstract oils, I wanted that transference. I can look at old pieces (almost none of which I like now) and remember that I was listening to Talk Talk's Spirit of Eden or some gutting Harry Nilsson song on repeat, or Bikini Kill or Teenage Fanclub.
So, for the face and hands, I listen to community jazz radio; sometimes classical stuff that's wonderful but that I am uneducated around and unfamiliar with. For the rest of the painting, I listen to XRAY.fm's Strange Babes show (highly recommended!), and podcasts — Rick Steves' podcast, Kevin McDonald's The Kevin McDonald Show, and painting podcasts like The Jealous Curator's Art for your Ear, The Savvy Painter, I Like Your Work, Art and Cocktails, and any ol' art history podcast I can find. I want to mess around a lot more with this in the next few years; run experiments on the hamster, so to speak.
Your work has gotten so much bolder over the last couple of years — your earlier portraits of Oprah and Martha Stewart, painted on white backgrounds, come to mind. Their personalities came through, but now your work is as much about you and your energy as it is the subject's. Would you agree? Or maybe I am making things up in my brain?
I think that's definitely true. The white backgrounds were something that I was aesthetically attracted to because I felt that they made a subject pop, BUT honestly, also, when I painted those, I don't think I was sure yet what more I wanted to do with pieces beyond depicting the figure itself; there's a restraint there that's based more in hesitation than intention. I want to continue to get bolder, not just energetically, but compositionally and in terms of subject matter.
I've been taking photos of people in my life and am starting work on a series of larger portraits of them based on the photographs, and I want these paintings to be more psychologically illuminating, more beaming with love, more overflowing with color and symbolic objects and visual information that transmits my admiration of them to the viewer. I am fascinated by and in awe of of Lucian Freud's portraits. He had horrible disdain towards lots of his sitters and would berate them and make them sit in punishing ways and it shows in the work; his contempt for them is, to me, the emotional core of the work. You look at those paintings and go "Oh, fuck, dude, yikes." I want to do a reverse-Freud so that you look at the paintings and go "Oh, fuck, dude, that's love."
Let's talk snacks. I love to talk to people about snacks, and you are always eating amazing looking food when you travel. What is your favorite snack right now?
Having just relocated to Portland, I am now surrounded by an unsane variety of ridiculous snacks. It's really an overwhelming rainbow of deliciousness, and it's hard to not just be a careless glutton in the face of it all. I know my cholesterol's high and it's time to cool it and really go heavy on the vegetables starting, like, now, but I keep thinking about the steak tartare at this place called the Scotch Lodge that just opened in Southeast Portland. It comes with house-made potato chips, and is hand-cut (I prefer a chunky cut to a grind) and this horseradish crema that is *chef's kiss*. I call steak tartare "wet food" because it looks like a cat's wet food. My eyes turn into saucers in the face of this snack.
To commission your own pet, prescription or person portrait, contact Joan at joanlemay.com, where you can also order prints of some of her most popular pieces, including portraits of Alexandria Ocasio-Cortez, Mr. Rogers and birth control. Follow her on Instagram at @joanlemay.
---
Yay, You! is published every Sunday in the It Rhymes With Feeling newsletter, and it features Q&As with some of my favorite artists, musicians, writers, creators and sometimes even my friends. If you like what you read, join the mailing list by smashing (YES, SMASHING) the button below so you never miss an installment.
If you really like it, hit that little heart icon, share this post on social media and/or tell a friend! You can also follow me on Twitter and Instagram.
Here is a song I love right now. Here is a snack I love right now.