How to Make Pill Popper Cupcake Toppers
A cupcake full of sugar helps the medicine go down.
A few weeks ago I hosted a Depressed Cake Shop at Anaconda Vintage in Nashville. If you aren't familiar with the Depressed Cake Shop, let me tell you, it's brilliant.
The idea was first conceived in London in 2013 by a woman named Emma Thomas. It's a one-day pop-up bake shop that sells gray cakes, cookies and other desserts as a way to bring awareness to and fight stigmas of mental illness. Since its inception, hundreds of Depressed Cake Shops have been hosted all over the world — the U.S., Europe, Canada, Australia, Asia — and all the proceeds from every bake sale are donated to local organizations doing important work in the mental health field. You can read more about it (and learn how to host your own) at depressedcakeshop.com.
For my cake shop contribution, I wanted to highlight the very thing that has helped me most in my forever fight with depression, my antidepressant. And holy shit did people love these little candy pills — "Are those real?" "Where did you find these?" and "Can I … can I eat them?" were some of the most exclaimed phrases.
Seriously, people were very impressed. But there's really nothing to them — these little pills are so easy to make it almost feels silly to write out the directions. But maybe you have a friend who needs a sweet reminder that there's no shame in taking medicine to manage one's mental health. Or maybe you yourself need reminding.
Either way, here, I'll tell you how to do it. All secrets revealed.
You'll need:
Empty gelatin capsules in size 00 — you can find them online or at a local health or supplement store (I used these, which are safe for vegetarians)

Sprinkles

A small bowl
1) Dump a bunch of sprinkles into the bowl.
2) Pull each capsule open and fill each half about three-quarters of the way full with sprinkles. (I just dip each half into the mountain of sprinkles — no spoon, no tiny funnel, easy peasy.)
3) Press the halves together until you feel a click. If the capsules are too full, they won't snap together so if you don't get that snap, dump out a tiny bit of sprinkles and try again.
That's it! That's literally all you have to do. Put them on cupcakes, cookies, cakes — whatever you want! When it comes time to enjoy your treat, break or cut each capsule open and dump the innards all over the frosting. Fun!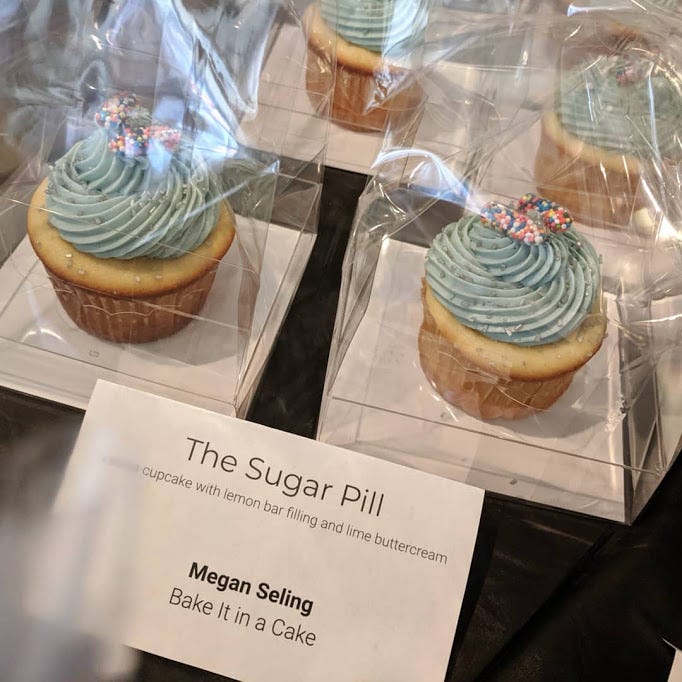 ---
It Rhymes With Feeling is a newsletter written by Megan Seling. It's free to subscribe, so if you like what you read, join the mailing list by hitting the button below.
If you really like it, hit that little heart icon, share this post on social media and/or tell a friend! You can also follow me on Twitter and Instagram.
Here is a song I love right now. Here is a snack I love right now.